As news of some disharmony in the efforts to reach consensus for health reform legislation sprayed out from Washington, I've been trying to find the words to explain what this means.   It's always been clear that the "devil is in the details" and that when it came time to forge enough agreement to pass legislation, (as it did last week), there would be ups and downs as provisions are modified, dropped and added.
Beyond that simple description, it would take many, many words to explain how the process for achieving success in health reform legislation could work.  So instead, below are some pictures, that I hope will be worth thousands of words more than the brief comment below each one.
The process will continue to be have ups and downs – and unexpected loops – which may leave some people nauseated.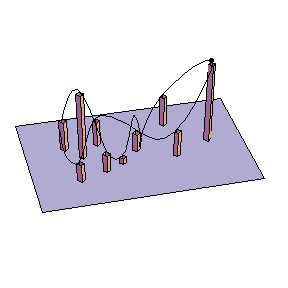 Putting together successful legislation requires understanding the science of health, and the "physics" of how all the parts of the healthcare system and the political process interact. [Note how the pieces slow down and come closer together at the peaks, and then speed up and spread out in the valleys.]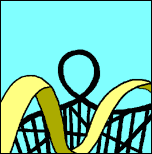 And hopefully amidst all the ups and downs and loops, the final result of health reform will have a heart (and soul).
And lastly, not to forget the "Golden Rule," below is a video that two other health bloggers (Matt Yglesias and Jonathan Cohn) linked to in their blogs to illustrate the importance of financing and the "golden rule" for making – or breaking – health reform.
And of course, in this case, the "Golden Rule" is….. "He (or She) who has the gold, rules."
I'm going to be in DC this week to take the pulse of health reform. So stay tuned for the prognosis of success amidst all the twists and turns in the substance and process of health reform.