I get lots of emails.  Some are interesting.  Others are Spam – such as the one offering to double my gas mileage by showing me how to run my car on water.  (Don't they know that cars run on air not water!!!!!)
And last week I got one promising to cut health care expenses by 30%.  Not just my health care expenses, but the entire countries spending on health care. (See their promotional coupon below.)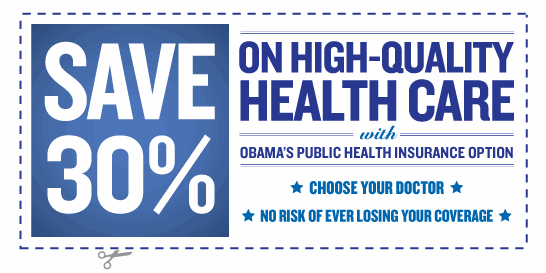 As you can see, this is really a call for people to support a public plan as part of health reform.  This is a great message and marketing gimmick, but the problem is that nobody has agreed on the definition of a "public health insurance option."  For example, Nancy-Ann Deparle, (Director of the White House Office of Health Reform), has said that a public plan could be like the Federal Employees Health Benefits Plan, which offers government employees a range of private insurance and managed care options.  But I haven't heard anyone suggest that the FEHBP has reduced costs or premiums by 30%.
The 30% figure probably came from the Lewin Group's analysis of how many people might go into a public plan option and how much it could save.  Their report put some numbers around the obvious conclusions that the lower the prices the government plan paid for healthcare products and services, the less it would cost and the number of people going into such a plan would be greater. They specifically found that, "If Medicare payment levels are used in the public plan, premiums would be UP TO 30 percent less than premiums for comparable private coverage. [emphasis added.]
Another factor that could influence the structure of a public plan, (if one is created in this thing we're calling health reform), is that paying for healthcare care based upon each service, (a.k.a. fee-for-service), is being widely blamed as a prime cause for healthcare inflation.  And many payers – including the state of Massachusetts – are looking for other ways to pay for healthcare, such as making payments based upon quality or complete episodes of care….basically anything but fee-for-service (FFS).  Thus, the long term viability and cost savings of a public plan based upon Medicare-like FFS reimbursements is questionable. However, creating a public plan based on payment systems that aren't yet widely used – such as global payments – also seems problematic.  And going the route of Massachusetts, (whose Connector is very much like FEHBP), seems too simple and probably won't produce significant near term savings.
All this leaves me wondering what will happen, and if there are fourth, fifth, or sixth options?