The Journal of General Internal Medicine published a study last month that looked at primary care medical practices in Massachusetts to see how well they were able to provide the quality improving capabilities of Patient-Centered Medical Homes.  These structural capabilities represent process measures that assess the quality of care in medical practices.  However, these same measures could also help patients select their own primary care physicians.
Study Finds Larger Practices Have More Quality Related Capabilities
Not surprisingly the study found that larger practices, (and to a lesser extent those affiliated with larger networks of practices), provided more capabilities to improve the quality of patient care. The most significant difference in capabilities was seen in practices with 5 or more physicians, and these included:
Practice meets to discuss quality more frequently than every quarter
Practice regularly open to provide care on weekends
Use of Electronic health records that provide medication list, problem list, and electronic reminders
In addition, practices with 9 or more physicians were more likely to have specialty trained staff to assist with patient self-management, and there was an overall trend for larger practices to have reminder systems for preventive care: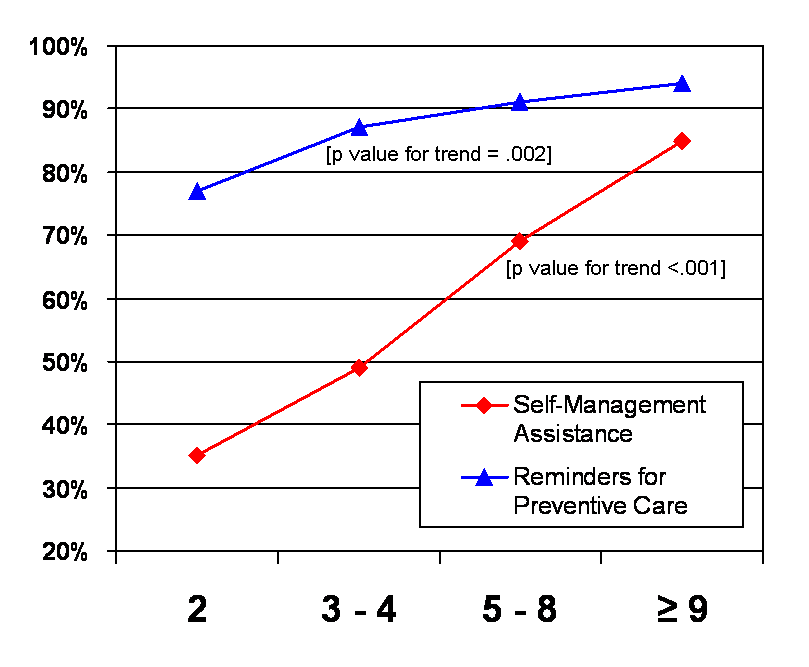 Asking Questions to Improve Quality
The questions used by the researchers in this study are clearly useful for assessing the quality relate capabilities of primary care practices, but additional research certainly it warranted to determine how well these process measures translate into actual improvements in clinical and economic outcomes. In addition, as such lists are developed and validated further, they could also be used by individuals looking for their own primary care physicians, and by patient advocacy organizations seeking to both promote quality improvement and to "grade" primary care providers.
The specific questions used in the study's survey was: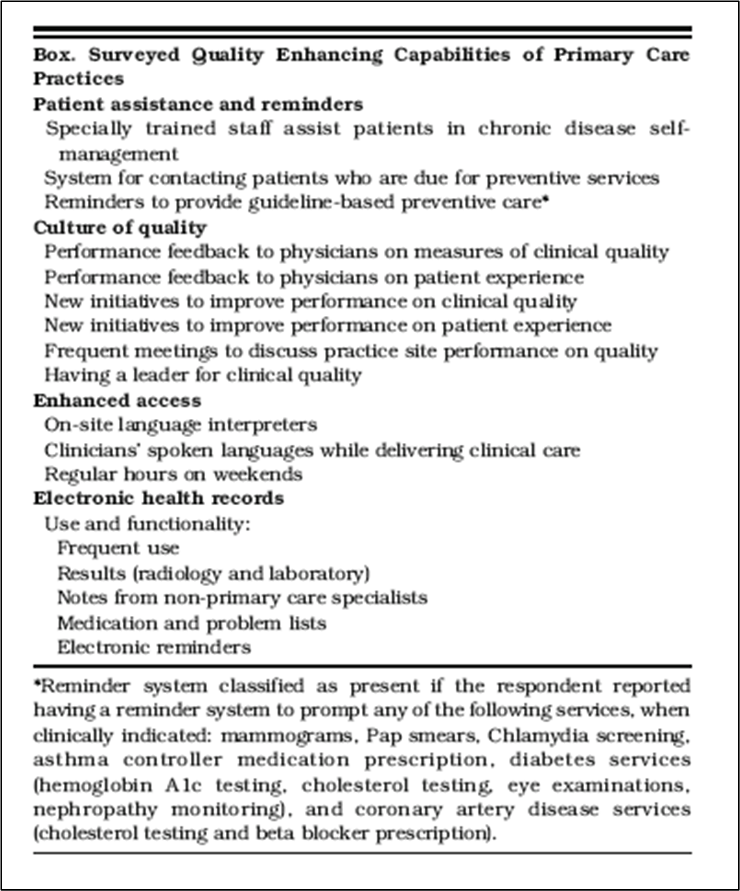 One of the challenges for individuals or groups to effectively use any list of this type is that it needs to be customized because they will have different priorities and concerns. For example, the availability of translation services might be important for one family or advocacy organization, but less so for others.
Conclusion
Much has been written about using checklists to improve quality and reduce errors in hospitals – and particularly in the operating room.  But perhaps checklists could be derived from this type of Medical Home capabilities survey for use by individual patients and their advocates to assess outpatient clinical sites.   While the operating room checklist concept was based upon the airplane pre-flight checklist, maybe the checklist for assessing primary care practices could be likened to the checklist that home inspectors use to help home buyers understand the strengths and problems of a house. If individual patients and their collective advocacy groups regularly used checklists of this type, it could create a significant patient driven force for transforming the structure and operations of outpatient medical care in the United States to improve quality and control costs.