The Centers for Disease Control and Prevention released some interesting data yesterday.  They reported that in 2007 an estimated 23.6 million people (7.8% of the total US population) have diabetes.  Of these people, only 17.9 million know they have diabetes, while 5.7 million have not been diagnosed.  The good news is that the percentage of people with diabetes who don't know it has decreased from 30 to 25% The bad news is that the number of Americans with diabetes is increasing.
Number  of People in the US (in Millions) with Diagnosed Diabetes: 1980- 2005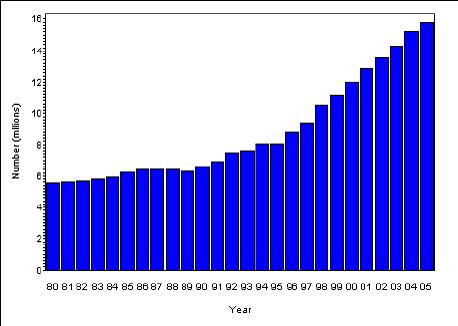 (from http://www.cdc.gov/diabetes/statistics/prev/national/figpersons.htm)
How Bad Is a Little Sugar?
As the CDC's Fact Sheet states, "Overall, the risk for death among people with diabetes is about twice that of people without diabetes of similar age." Diabetes causes high blood pressure, heart disease and stroke, and is the leading cause of blindness and kidney failure in adults.  Diabetes – because it affects the small blood vessels – also predisposed people to infections, and can lead to amputations from lack of adequate blood flow.  It also increases the risk of pregnancy complications, and leads to nervous system impairments.
How Many People Have Diabetes Where I live?
The CDC doesn't have county level data for 2007 yet, but the map below shows the percentage of people with diabetes in counties across the country.  [Note – People in Colorado do have diabetes, but in Colorado the country with the highest incidence of diabetes falls just below the threshold for the second color in the map.]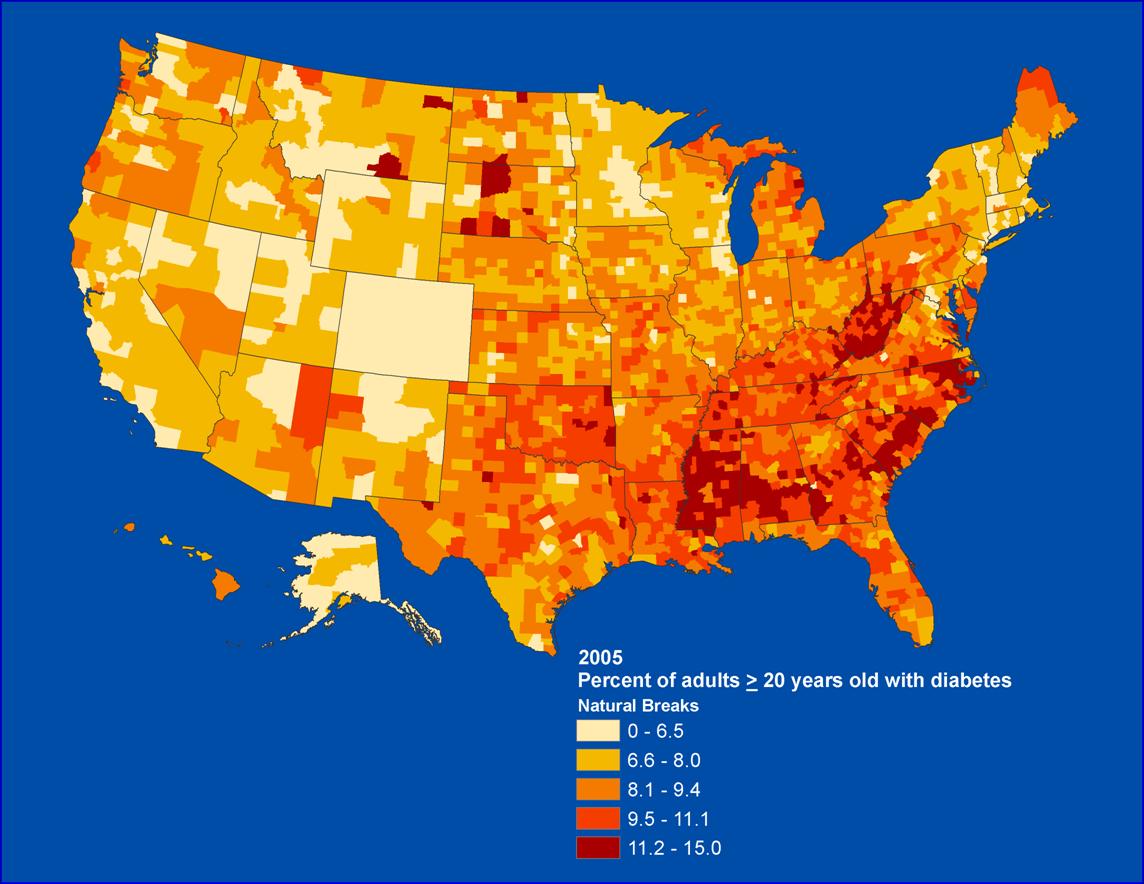 (from http://apps.nccd.cdc.gov/DDT_STRS2/NationalDiabetesPrevalenceEstimates.aspx)
What to Do About Diabetes?*
There are lots of good resources of information for patients about diabetes (see below), but without getting into too many specifics, people should talk to their doctors about three different types of things:
Testing: Get tested – both for diabetes as well as pre-diabetes, a condition which indicates impaired metabolism of sugar and a higher risk of developing diabetes.
Treatment: Get treated if you have diabetes.  Get treated for the diabetes itself and for other conditions that increase the risk of developing the complications of diabetes, such as high blood pressure and high cholesterol.  And be sure to take your medicines as instructed by your physician, and test your blood sugar as they recommend.  If you don't understand how to take your medicines or have any questions about them, just ask your doctor or pharmacist.  Quality healthcare professionals would rather answer your questions and prevent problems from developing, than have to help you resolve any problems you develop from taking medicines incorrectly.
Personal Choices – Eat Right and Exercise: Whether you have diabetes or are at risk for developing diabetes diet is crucial, and exercise and weight loss can help improve diabetes and lowers the risk of developing diabetes and its complications.
Resources About Diabetes
American Association of Diabetes Educators – www.diabeteseducator.org
American Diabetes Association – www.diabetes.org
Centers for Disease Control and Prevention – www.cdc.gov/diabetes
National Diabetes Information Clearinghous – http://diabetes.niddk.nih.gov/ and http://diabetes.niddk.nih.gov/dm/pubs/stroke/#connection
*DISCLAIMER – THIS INFORMATION IS NOT SPECIFIC MEDICAL GUIDANCE, IT IS NOT INTENDED TO DIRECT TREATMENT OR PREVENTION FOR INDIVIDUALS,  AND SHOULD NOT BE SUBSTITUTED FOR ADVICE FROM PHYSICIANS AND OTHER HEALTHCARE PROFESSIONALS INCLUDING NUTRITIONISTS, AND DIABETES EDUCATORS.